How to... Write an article for your school or university newsletter or magazine
---
WHY WRITE AN ARTICLE?
An article can enable you to reach a large number of people all at once, and if you are not one for public speaking, or particularly enjoy writing, it can be a wonderful way for you to mark Holocaust Memorial Day. You are able to reflect upon and share your experience of the Lessons from Auschwitz or Belsen 75 Project with your peers, local community and beyond. As someone who has seen for themselves one of the most notorious killing sites in history, and heard the testimony of a Holocaust survivor, your words have a significant role to play in highlighting the importance of Holocaust remembrance.
---
GET STARTED
CHOOSE YOUR TOPIC

This should be sharing what you know and encouraging others to remember the Holocaust, particularly on Holocaust Memorial Day. You should:

Talk about why it is important to you that we remember the Holocaust – you should share your experience taking part in the Lessons from Auschwitz or Belsen 75 Project (if you have any, you may wish to include pictures you took whilst on the visit).
Think about how you would like everyone who reads your article to join you in remembering the Holocaust for Holocaust Memorial Day. Perhaps there is a survivor's testimony online that you would like to direct them to read/watch in your article.

Or perhaps ask the read

er

to sign up to one of our online events marking Holocaust Memorial Day.

Register for our Live HMD Webcast or our Online Event for Universities.
Speak about the theme for Holocaust Memorial Day this year - 'Be the Light in the Darkness'. What does the theme mean to you as an Ambassador for the Trust? You might find it helpful to look at our readings and poems which reflect upon the theme.

REACH OUT

Holocaust Memorial Day is a national day of commemoration in the United Kingdom and so many newspapers and magazines will be keen to mark the day, but would really value support in making it accessible and powerful for their audience. This is where your experience comes in! There is no better way to communicate the importance of remembrance than a student/alumnus writing for a school/university newsletter or a local resident writing for their local magazine or newsletter. You may wish to consider contacting:

Your school/old school
University/old university
Local publications e.g. local council newsletters

Reach out to those who run the publication explaining that you are an Ambassador for the Holocaust Educational Trust and that you would like them to publish a piece you are writing about Holocaust Memorial Day.

KNOW YOUR AUDIENCE

Think about how best to communicate the importance of Holocaust Memorial Day to the audience who will read your article. We recommend that you:

Introduce yourself at the outset of the article, letting the reader know that you are an Ambassador for the Holocaust Educational Trust and sharing what this role means to you.
Share your connection to the newsletter/magazine – are you a student? An avid reader of the local paper? It is really important that you gain the interest of your audience and that you convey why your article is relevant to them personally.

SET A TIME FRAME

We recommend you leave enough time to write your article, make changes and then send your article to the newspaper or magazine with time before they publish it. They should give you a time they need it by when you contact them. We recommend you consider the following time frame for your writing:

3 weeks before – write your first draft of the article and send this to the Ambassador Programme team at

This email address is being protected from spambots. You need JavaScript enabled to view it.

. With our expertise, we can offer you guidance and support in all engagements and projects you will encounter in your role as an Ambassador.
2 weeks before – Complete the final version of your article once we have sent your first draft back with any amendments.
1 week before – make time to ensure that the newsletter/magazine have everything ready for your piece including images. It is worth checking if and when it might be shared online as this is something we recommend you share widely - not only because you should be proud of your piece, but also to raise awareness of Holocaust Memorial Day within your community.
---
USEFUL ADDITIONAL RESOURCES
Holocaust Educational Trust
The Holocaust Memorial Day Trust
Yad Vashem, The World Holocaust Remembrance Center
The United States Holocaust Memorial Museum
TOP TIP FROM AN AMBASSADOR
Always think about the message you want the reader to take away and gain from the article, e.g. feeling inspired to get involved or hopeful about the future.
Jaya Pathak, Regional Ambassador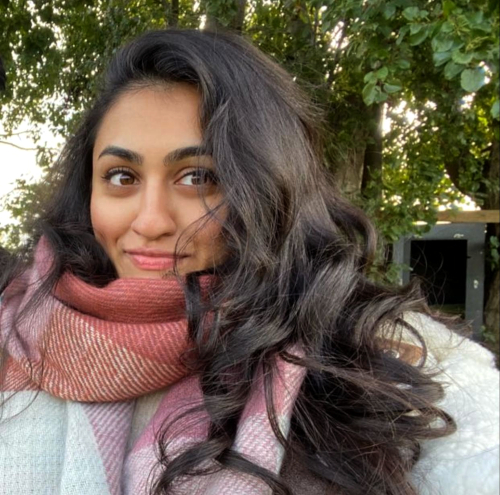 SOCIAL MEDIA
Don't forget to share pictures of the event on social media! Tag us at:
Don't forget to use the hashtags:
#HETAmbassadors
#HMD2021
#HolocaustMemorialDay