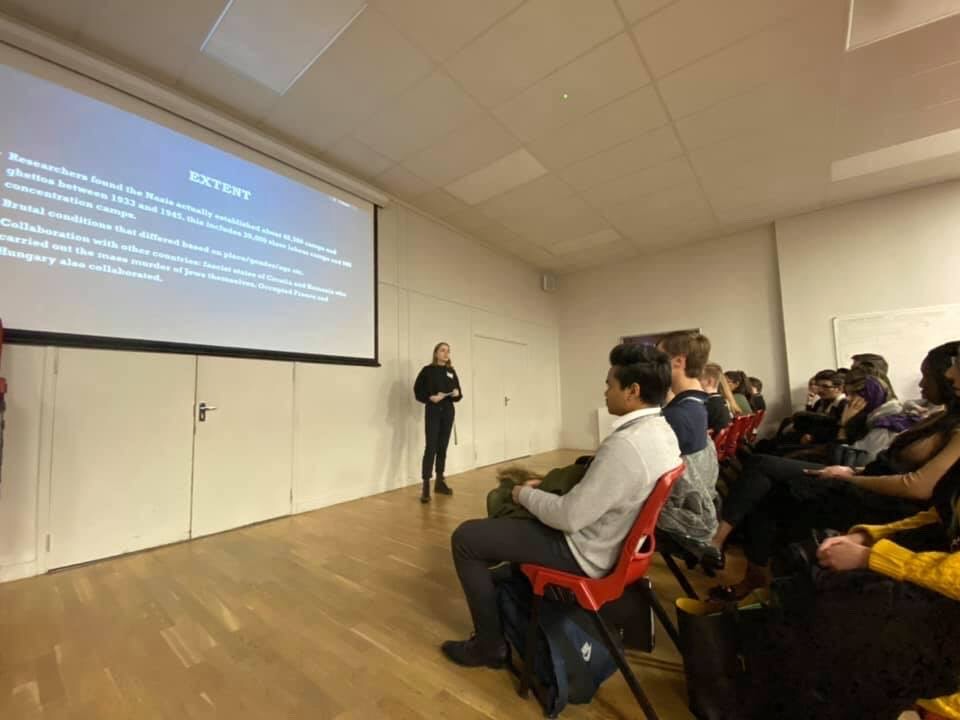 Ambassador Becky holding an assembly at her school for Holocaust Memorial Day.
---
AMBASSADOR TOP TIP
"Think about what your audience might already know, tailor your information to this by helping to show them something new. I think that bringing everything back to contemporary relevance at the end will always leave your audience with something to think about!"
- Becky
---
SET A TIME FRAME
Contact the school to ensure you can get the assembly booked in either on or close to Holocaust Memorial Day
Write your first draft and send to us at This email address is being protected from spambots. You need JavaScript enabled to view it.. We want to hear about your projects!
Once we have confirmed your draft, edit and finalise your presentation.
Check in with the school to make sure everything is set for the assembly. Check the tech you need is working and make sure to practise.
Print out your copy of the speech and make sure you're all set!
---
HOW TO APPROACH YOUR ASSEMBLY
Decide what you want to achieve

What does Holocaust Memorial Day mean to you as an Ambassador? Why is important to mark it in your school, college, university or local community?

Consider who you want to reach and how holding an assembly will help you convey the importance of remembering the Holocaust.

Consider your audience

Only present to Year 9 and above to ensure the content is age appropriate.

See if any fellow Ambassadors or GCSE/A-Level History students covering the Holocaust in their classes might like to contribute.

Many people won't have heard of the Holocaust Educational Trust – make sure you introduce yourself as an Ambassador for the Trust and share what this means to you.

Share your connection to the school or local area. Why are you the best person to be talking to their school about marking the day?

What to include

Always include

What was the Holocaust: For Holocaust Memorial Day events to be meaningful, we need to ensure the audience knows what the Holocaust was. Remember what you learnt about on the Lessons from Auschwitz Project – you learnt a specific definition. Share this as your starting point.

Lessons from Auschwitz, Lessons from Auschwitz Online or Belsen 75: Introduce the Project you went on and talk about which parts resonated with you. How did the Project shape your understanding of the Holocaust?

Remembrance: Why is it important to you personally that we remember the Holocaust? Ask for your audience to join you in remembering. You may wish to light six candles to remember the six million Jewish men, women and children who were murdered.

Survivors: Mention survivors you have heard from. Outline why you think it is so important that we listen to those who were there and witnessed the Holocaust and describe an aspect of testimony that you heard which particularly resonated with you.

One Day: What does the theme mean to you as an Ambassador? Take a look at our guidance notes for more information.

You could include

Readings: You could read a poem or an extract from a survivor's testimony. Take a look at our recommended readings for ideas related to One Day.

Holocaust Memorial Day Webcast: each year the Trust holds a livestream, during which a Holocaust survivor shares their testimony to tens of thousands of school students across the UK. You could stream our webcast as part of your assembly – register your interest here.

Plan your presentation

We recommend planning for the assembly to last around 10-15 minutes but check if the school has any timing requirements.

Refer back to what you learnt on your Project when defining the Holocaust, being mindful of different levels of understanding in your audience. It's always a good idea to include the fact that six million Jewish men, women and children were murdered by the Nazis and their collaborators.

Keep text on slides to a minimum and don't read straight off them. You want the audience to listen to you rather than read the slides!

Include pictures where possible, e.g. of the survivors you mention. Please avoid use of graphic images which show victims who have been murdered, or visibly mistreated. Instead, consider how people can better understand the Jewish community and individuals before the war (understanding this can help people comprehend what was lost during the Holocaust) – we recommend that people use images of Jewish people and communities before the war.

Once you have a draft of your presentation, email us a copy at

This email address is being protected from spambots. You need JavaScript enabled to view it.

.

Share your success!

Email This email address is being protected from spambots. You need JavaScript enabled to view it. to let us know how you got on and who you reached.

Share pictures of you giving the assembly on social media – if you want to use pictures showing your audience too, check with the school to see if you have permission. See below for how to reach more people online!
---
ADDITIONAL RESOURCES
If you're looking for more information, inspiration and guidance, there are plenty more resources for you to explore.
The Holocaust Educational Trust:
Other organisations: