For information on submitting your Next Steps in light of school closures and social distancing, please see our Next Steps COVID-19 FAQs.
You are now responsible for passing on what you have learned to students at your college and your local community. You've been involved in a unique project; we sincerely hope you'll be enthusiastic about helping others to benefit from your involvement.
Don't forget to submit your Next Steps work to the Holocaust Educational Trust team. If you're successful you can earn 3 ASDAN credits, and receive a credit rated certificate – which will look great on UCAS or job applications!
Please contact the Next Steps team (This email address is being protected from spambots. You need JavaScript enabled to view it.) if you need any support planning, delivering or submitting your Next Steps.
If you would like to arrange for a Holocaust survivor to speak at your school please fill in this form and someone from the Outreach team will get in touch.
---
What goes into a successful Next Steps submission?
Your Next Steps submission should contain three things:
1. A signed submission form.
2. A Personal Reflective statement.
In order to meet the criteria, you must submit your own 500 word Personal Reflective Statement. Some points you might want to consider for the Statement:
What most struck you and what did you learn from the project?
How did you decide what Next Steps Project to undertake?
What did you want to pass on to others?
How did you communicate your message?
What kind of impact did your Next Steps have either in your school or in your community?
You can use 'Your LFA Journey Reflective Diary' to help formulate your response.
3. Evidence of your Next Steps work.
In order to meet the criteria, you must submit evidence of the Next Steps that you have undertaken. Your Next Steps should have included sharing information about the Holocaust with peers and/or the local community, and helping others think about the Holocaust's contemporary relevance.
Your supporting evidence will depend on what type of project you chose to undertake, and we ask you to submit a maximum of 4 evidence files. Please include some of the following as your evidence: good quality photos, links to videos, written pieces, screen-grabs of presentations (saved in a Word document, we cannot process PowerPoint files), posters, leaflets, lesson plans, letters, articles, etc. that document your work. Ensure that you explain what you did for your Next Steps somewhere in your submission so that the moderator can make sense of the evidence received.
---
If you have any questions about your Next Steps, have a look at our frequently asked questions here!
---
Where do you go from here?
1. Speak to your LFA partner and co-ordinating teacher about what your plans are and show them your A3 Next Steps Planner which you will have started to complete at the Follow-up Seminar.
2. Decide what you want to do and create some deadlines to work towards – When will you finalise details with a teacher? When will you have everything prepared by? When will you deliver on your plans?
3. Email the Next Steps team at This email address is being protected from spambots. You need JavaScript enabled to view it. if you require any guidance, want to share your ideas and thoughts, or need resource ideas. They will be very happy to help.

4. Submit your Next Steps by sending them as a email attachments to This email address is being protected from spambots. You need JavaScript enabled to view it. by the deadline given in your Follow-up email. Remember to include the signed submission form, reflective statement, and evidence of your Next Steps. You can upload a maximum of 6 documents (Word, jpeg and PDF only) In the body of the email, please write:
Your full name
The name of your school
Your LFA Project Region (e.g. North East, Glasgow, London North etc.)
5. Take lots of photos! Be sure to take photos of you completing your Next Steps. Please submit the best three as your evidence, and email the rest to us at This email address is being protected from spambots. You need JavaScript enabled to view it.. You can also tweet them to us @HolocaustUK, and we will share your hard work with our followers.
6. Upon completing your Next Steps you will become a Holocaust Educational Trust Ambassador.
---
Readings and photographs from the Lessons from Auschwitz Project
Below you'll find a few readings and photographs that might be useful in your Next Steps. If there are any resources that you can't see below, but would like to use, please get in contact with the Next Steps team. Remember to ensure that your Next Steps and the resources you use are appropriate for your audience. Contact us, read these guidelines or speak to a teacher for advice on this.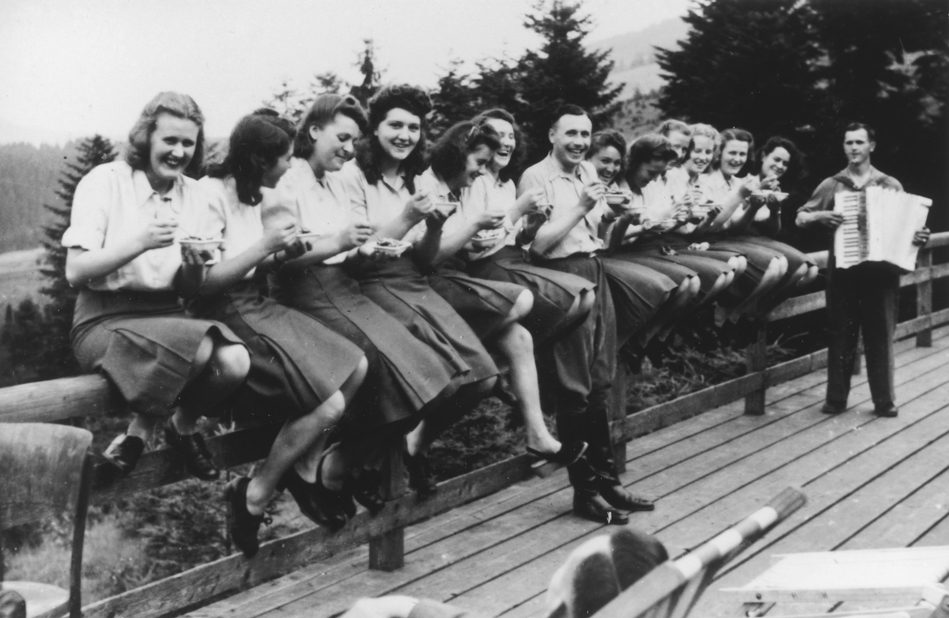 SS Helferinnen (from the women's auxiliary unit) who worked at Auschwitz-Birkeanu, listening to music and eating blueberries on their day off.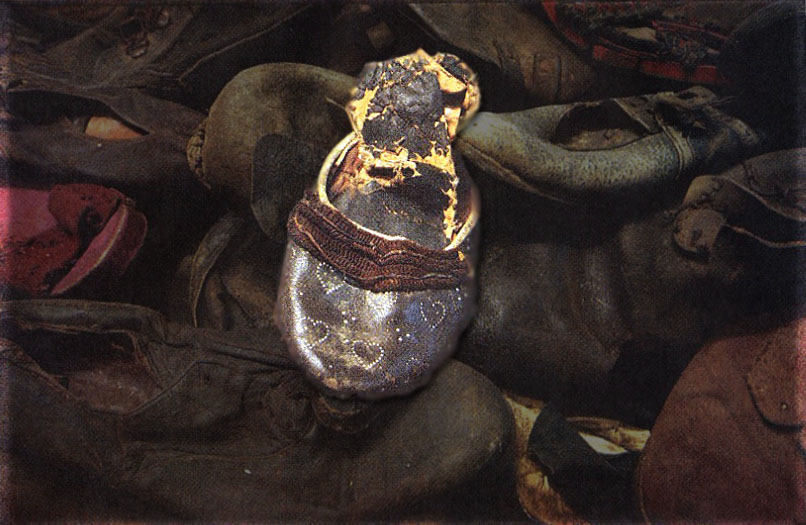 A single shoe amongst the tens of thousands of shoes found during the liberation of Auschwitz-Birkenau.
Siegbert Fischer, a German Jew, holding his school cone. He arrived in Britain as an unaccompanied refugee on the Kindertransport.
Irma Klipstein and her daughter Ursula on holiday in Holland. They're German Jews who survived the war.
Ursula was hidden by Catholic nuns and her parents were kept in Malines transit camp by the camp commandant who was from the same area of Germany as them.
---