On Tuesday 18th July 2017, with the support of the Holocaust Educational Trust, Their Royal Highnesses The Duke and Duchess of Cambridge, visited the site of the Nazi German concentration camp Stutthof, in Poland, where over 28,000 Jews perished during the Holocaust.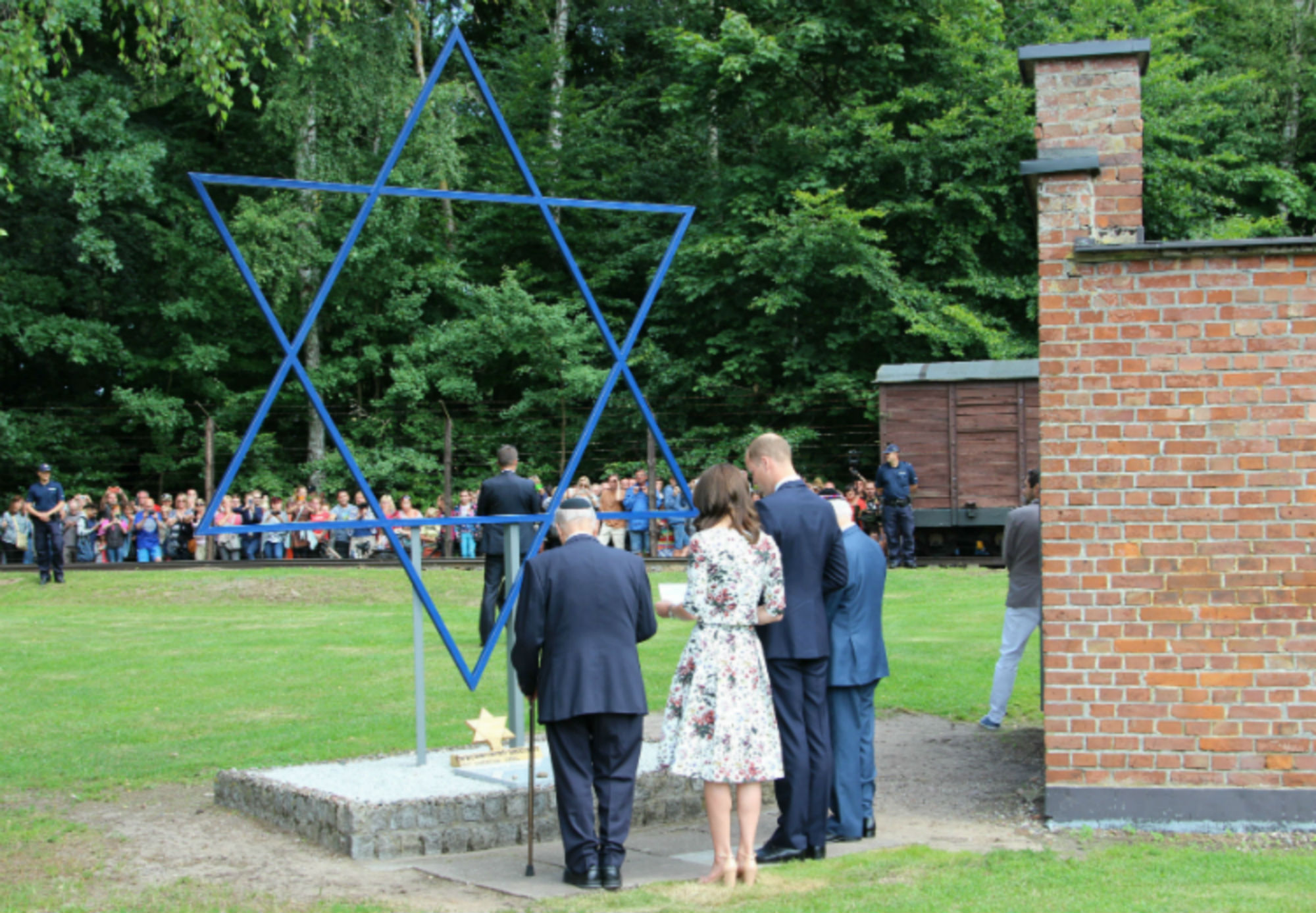 Their Royal Highnesses lay stones at the Jewish memorial in Stutthof camp with Holocaust survivors Zigi Shipper and Manfred Goldberg.
During their visit, Their Royal Highnesses met two British survivors of Stutthof, Manfred Goldberg and Zigi Shipper, as well as three Polish survivors of the camp. Manfred and Zigi met in a sub-camp of Stutthof before being liberated in 1945 and rebuilding their lives here in the UK.
Their Royal Highnesses with manfred Goldberg and Zigi Shipper walk out of the 'Death gate' at Stutthof Concentration Camp.
Their Royal Highnesses were shown shoes, clothing and other personal items, taken from the men, women and children imprisoned in the camp on arrival. They were also shown the gas chamber, used to murder those who were too weak, sick or emaciated to work.
The Duke and Duchess were shown a series of exhibits including possessions taken from inmates upon arrival at the camp.
Their Royal Highnesses, along with Manfred and Zigi, paid their respects by laying stones at the camp's Jewish memorial – a Jewish tradition – as Manfred recited El Maleh Rachamim, the Jewish memorial prayer for the dead.
The Duke and Duchess of Cambridge have helped shine a global spotlight on our cause, reminding the world that we must never forget. Survivors in the UK and across the world today will see that there are people who want to know their stories and who will ensure that their legacy lives on.
If you would like to learn more about Zigi and Manfred, you can find their biographies here –
Zigi Shipper
Manfred Goldberg
For more information on the Nazi German concentration camp Stutthof, click here.
Wondering about the significance of the stones in today's commemoration ceremony? Learn more here.
You can support our work here.