As we reflect on the loss of beloved Holocaust survivor Rudi Oppenheimer, and eminent author and Holocaust survivor Judith Kerr, who sadly passed away this month, we know that our educational work is more important than ever.
Rudi was a survivor of Bergen-Belsen, who dedicated the latter part of his life to ensuring that young people understood the trauma of his childhood under Nazi-occupied Europe. He spoke to an extraordinary number of schools, and was incredibly proud to have done so.
Judith Kerr's 'When Hitler Stole Pink Rabbit' was the first book about the Holocaust that I ever read. It left a lasting impression on me as a young child. I have never forgotten the story or the sensitive and insightful way she described the trauma she and her family experienced. Her writings will continue to inspire new generations.
Our thoughts and prayers are with their family and friends. Both Rudi and Judith shared their stories with young people across the country. As survivors become fewer and frailer, we have a responsibility to ensure their stories live on. We will do all we can to ensure their stories and legacy continues to be shared across the country.
Only one month to go until #AmCon19 - book now!
Join us on Monday July 1st 2019 for our seventh annual Ambassador Conference - #AmCon2019
The Ambassador Conference is an opportunity to hear from Holocaust survivors, listen to inspirational speakers and participate in interactive workshops and informative talks led by experts in the field of Holocaust research and commemoration. It is open to Ambassadors and Teachers.
Don't miss out and make sure you book your tickets here.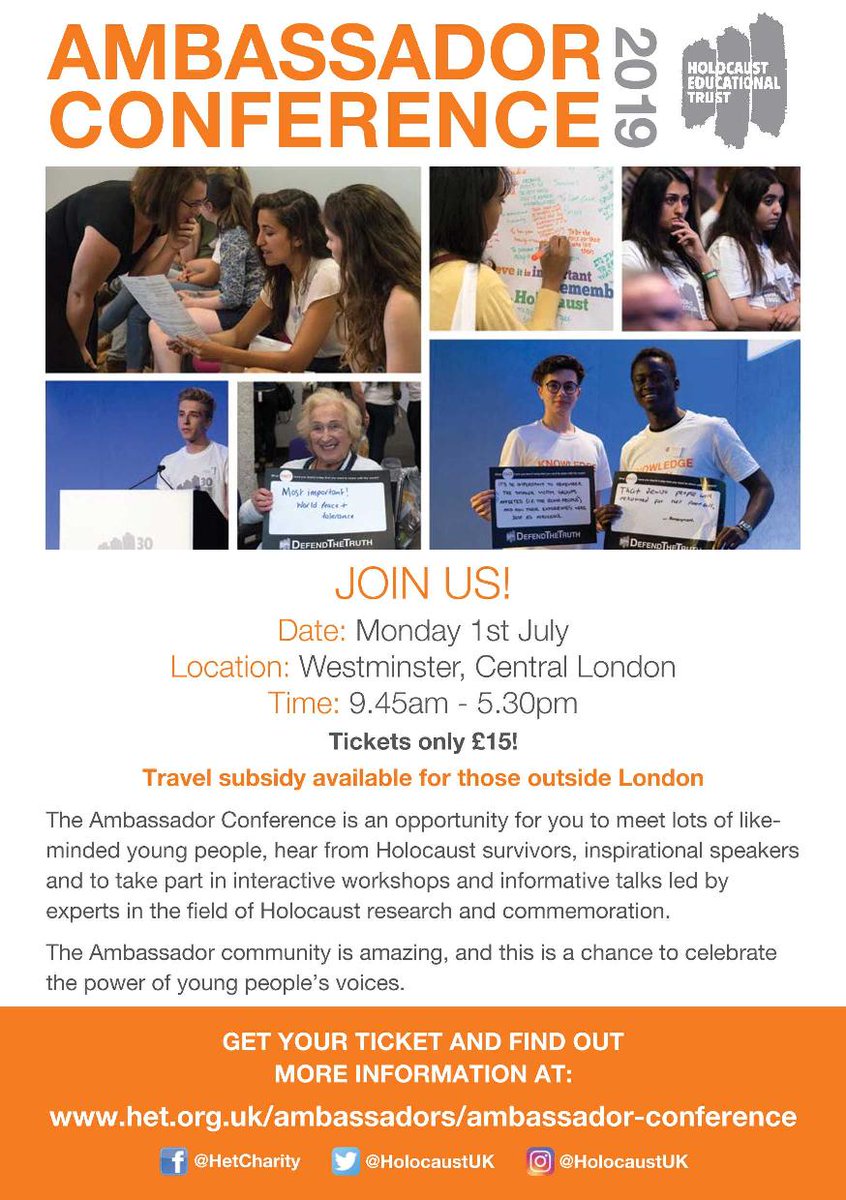 Lithuania Study Visit
This week, 26 teachers from across the British Isles took part in our Teacher Study Visit to Lithuania. The group were led by expert guide, Jeremy Leigh, and visited sites around Vilnius and Kaunas to explore the lives of the pre-war Jewish communities and the impact of those communities of the Holocaust. This is our second and final teacher study visit of the school year. All the information about our 2019 -20 teacher training residential courses will be on our website on Monday June 3rd
An evening with Zigi Shipper BEM
In May, over 90 guests attended a special evening for Young Professionals with Holocaust Survivor Zigi Shipper BEM. Zigi shared his inspirational testimony including his life in Poland before the war, his experiences after occupation and the work he's done to educate thousands of young people about the Holocaust.
The evening was organised by a HET committee, which includes relatives of survivors, to educate guests about the Holocaust and engage new supporters. The event followed a special visit to Poland in March this year for Young Jewish adults. The committee are now organising their next Poland visit, taking place in November.
Proceeds from the event will continue HET's work of educating about the Holocaust and its contemporary relevance. You can donate here.
Teacher Lessons from Auschwitz Project
There is still time for teachers from state schools in England to sign up for our Lessons from Auschwitz CPD Projects. Taking place from Manchester and London this summer, each course is open to secondary teachers from any subject area and comprise of two seminars and a one day visit to Auschwitz-Birkenau. For more details, please visit our website here.