On 14th July, for the first time in three years, the Ambassador Community came together in London for the Ambassador Conference 2022.
AmCon 2022 actually began two weeks earlier via our screens, where we all joined together to hear from the Trust's Senior Historical Advisor Martin Winstone, whose session "Why is the Holocaust Distinct?" was extremely informative and thought-provoking. For our second session, we were joined by Tracy Moses and her father Harry Spiro BEM. Zoe, one of our Regional Ambassadors, shared her reflections:
"We often reflect on the impact of the Holocaust on second-generation survivors and we all witnessed this when we listened to Tracy Moses share her father's testimony. Harry was the only person in his immediate family to survive the Holocaust and his experiences – working as a young boy in a glass factory to support his family in the Piotrków ghetto, the horror of the camps and the march to Theresienstadt and the poignancy of his last contact with his mother being a note she slipped through the slats of the cattle car to Treblinka – were recounted by Tracy with her arm around her father. It was in Windermere that Harry and other child refugees experienced kindness, hope and generosity after years of hatred. Harry stayed in Britain, married and set up a tailoring business with his friend and fellow Holocaust survivor Harry Balsam. When Harry spoke, it was wonderful to hear how proud he is of his growing family and of how he fulfilled his mother's wish: 'Hopefully, one of us will survive.'"
For the third and final session of AmCon Online, we were lucky enough to be joined by an incredible panel of speakers who discussed the topic 'The Future of Holocaust Education and Commemoration'. This panel included Rt. Hon. Ed Balls and Rt. Hon. Lord Eric Pickles from the UK Holocaust Memorial Foundation, Clementine Smith from the Holocaust Educational Trust, Dr Toby Simpson from the Wiener Holocaust Library and Dr Kori Street from USC Shoah Foundation, who engaged in a fascinating and enlightening discussion.
Moving onto AmCon in London, there was such a sense of excitement and anticipation when we entered the venue, as Ambassadors caught up with people they hadn't seen in person for years or had only met previously via a screen.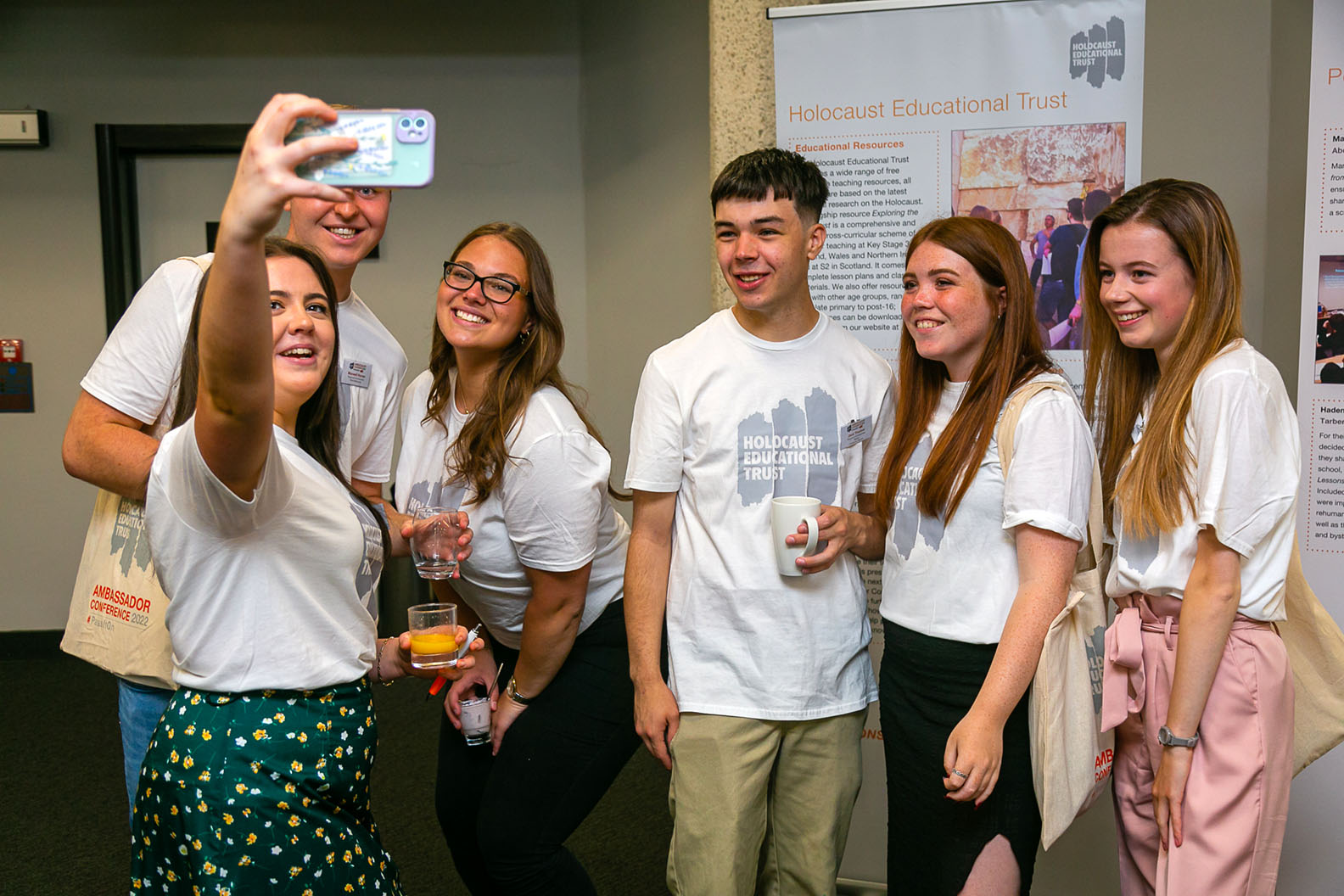 The day then began with an introduction from our Chief Executive Karen Pollock CBE and then from a team of Regional Ambassadors, who brilliantly introduced all the speakers throughout the day. We first heard from Dov Forman, who inspires us all so much with the work he does alongside his great-grandmother Holocaust survivor Lily Ebert BEM in keeping the memory of the Holocaust alive. We then heard from Rabbi Daniel Epstein and Professor Tim Cole, whose talks provided us with many thoughts, ideas and inspiration for our role as Ambassadors.
Then, we took part in smaller workshops which we had chosen at the beginning of the day. The workshops on offer ranged from 'Antisemitism in Germany in the 1930s' to 'Holocaust Tourism in the 21st Century'.
In the afternoon, we were privileged to hear writer and comedian David Baddiel discuss his bestselling book Jews Don't Count and contemporary antisemitism in conversation with Karen Pollock. This was followed by a talk from journalist and author Jonathan Freedland who spoke about his new book The Escape Artist, which tells the story of Rudolf Vrba, his escape from Auschwitz-Birkenau and his mission to make the world aware of the horrific truth of the Holocaust. You can read more about these two speakers and their books in this issue's Reviews article.
The day ended with Joan Salter MBE, who shared her testimony and journey of survival during the Holocaust. Joan's words were so inspiring as she described how she never let being a Holocaust survivor determine her life and how she lived it.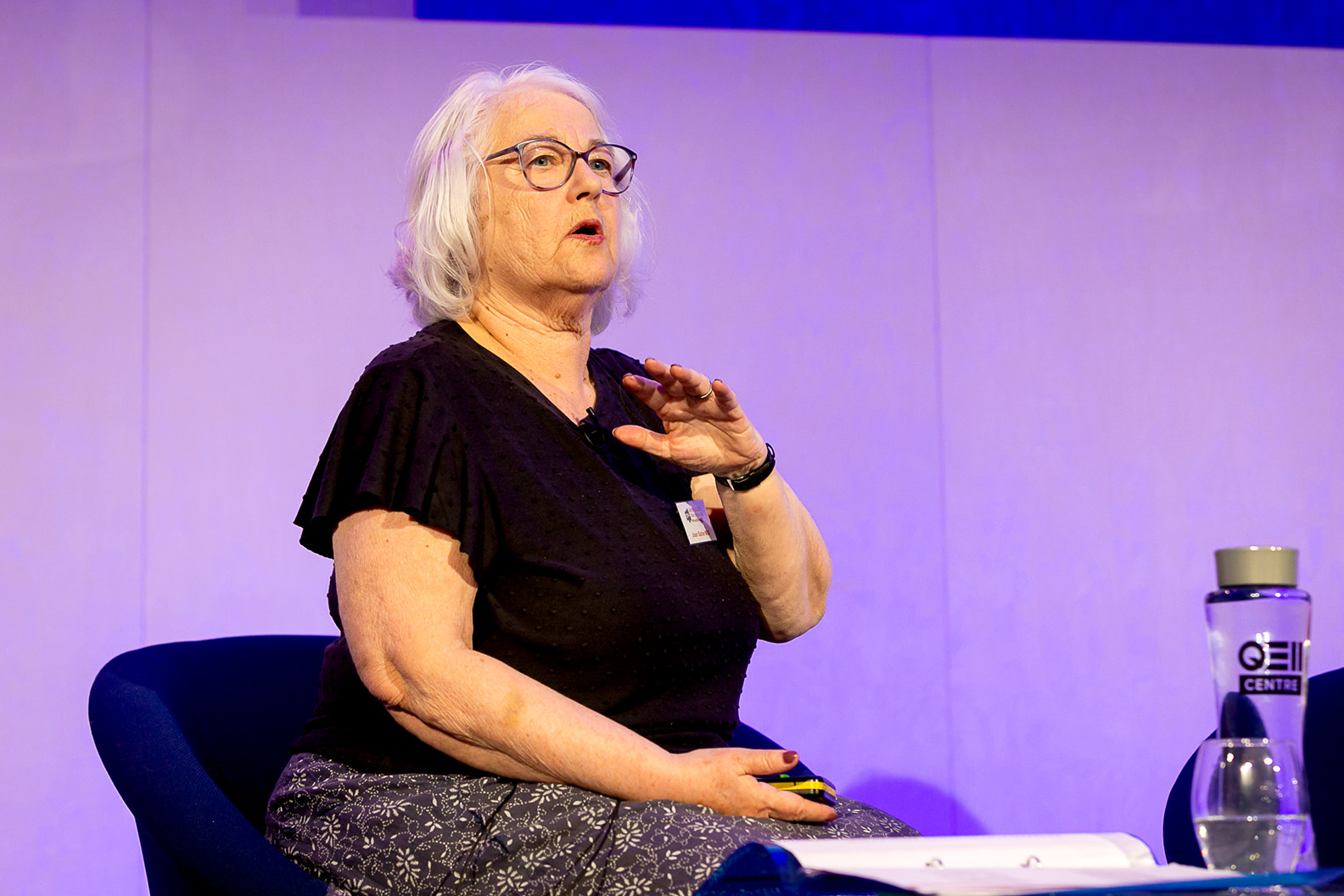 Regional Ambassadors Curtis and Olivia shared their thoughts on AmCon 2022:
"The theme for this year's conference was #PassItOn and speaking with other Ambassadors on the day made me realise how important our community is in spreading awareness about the Holocaust. It was a pleasure to hear from all the wonderful speakers, I particularly enjoyed hearing David Baddiel share his own experience taking part in Lessons from Auschwitz and his work combatting antisemitism today – I would highly recommend 'Jews don't Count!"
"I had a brilliant time at AmCon, and it was amazing to experience it in-person for the first time. As a Regional Ambassador, it was really rewarding to welcome participants and encourage them to get involved in the different activities on offer. It was inspiring to meet so many new people! Every speaker was fascinating and the range of topics was a great way to consolidate my learning. It was an incredible atmosphere, and I am already excited for next year!"
AmCon 2022 was an incredible experience to be a part of, from hearing what fellow Ambassadors are planning to do to #PassItOn, to the amazing lineup of speakers and, of course, hearing from and meeting our inspirational survivors. We cannot wait for 2023!
By Jack Thurlow, Olivia Hennessy, Curtis Burbidge, Zoe Christie