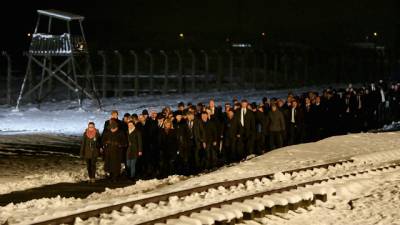 In our latest guest blog, Regional Ambassador Lewis Wright asks for the 71st anniversary of the end of the Holocaust to be marked on the same scale as the 70th anniversary was last year.
Since becoming an Ambassador and later a Regional Ambassador for the Holocaust Educational Trust, I have often heard the quite accurate statement, 'It is just so difficult to comprehend what happened'. I would however suggest that the greater issue we face is that it is just as easy to try and forget.
Every year we have one huge opportunity to ensure that the Holocaust, and more importantly those who were lost, lost family, and lost friends during this horrific episode of human history are never forgotten.
Perhaps 71 years does not sound as important as 70, but of course we all know that when it comes to Holocaust remembrance, that is not, and simply cannot be the case. Just like last year, just like the year before, and just like next year, the 27th January, 2016 will once again mark Holocaust Remembrance Day.
The theme this year is 'Don't Stand By' and that message could not be more relevant to our society today. The contemporary relevance of the Holocaust is just as prevalent now as it has ever been. Every time that we turn on the news or pick up a newspaper, we see evidence of hatred of one form or another.
In the 1990s, we saw that hatred between people of the same nationality in Rwanda, a decade earlier, there was the hideous Al-Anfal campaign in Iraq, and just a matter of weeks ago we were all made aware of the horrors of the second Paris attacks in a very short amount of time.
Not one of these genocides or acts of terrorism were the same, nor were they similar to the Holocaust in any way. Yet, when remembering the lives of those who were thoughtlessly murdered in Rwanda, or in Paris, never would you hear someone question; did you have friends in Rwanda? Or, did you know someone who lost their life, or lost a family member, or a friend, in Paris?
So why is it that I, or any other Ambassador, or individual associated with a Holocaust remembrance organisation, who has devoted a large amount of their time or even of their life to remembering what happened during, before, and after the second World War, are so often questioned about whether we follow the Jewish faith?
Religious allegiances are not my motivation for studying the Holocaust. Neither myself, nor any member of my family are Jewish. I feel that I am speaking on behalf of many of my fellow Ambassadors in saying that my motive for studying and remembering the Holocaust was the fact that millions of people, innocent people, lost their lives, and lost their friends, family, and everything that they associated with, throughout a period that began way before and extended long after the six years of the Second World War.
Many of those who lost so much were Jewish, maybe so, however many were not. I am asking you to never forget that vast numbers of Poles, Soviet Prisoners of War, homosexuals, both the mentally and physically disabled, and Jehovah's Witnesses, among many others, were also persecuted by the Nazis and their collaborators.
Now you may associate with one of the aforementioned groups, likewise you may not. But that is irrelevant. If there is one thing you take from what I have written, what you have heard, or what you have seen about the Holocaust, let it be this message that Hugo Rifkind delivered in his blog for Holocaust Remembrance Day last year
"Anybody could have done it to anybody. This is what humans can do. Talk about that. Talk about which side you'd be on, if something like this happened again. And talk about how you're so damn sure".
The theme for this year is 'Don't Stand By'. Whether you write a poem, or an article. Or even perform a song, perhaps you may lead an assembly. Whether you invite one of the selfless Holocaust survivors to speak at your local school/ university, or even bring together your community by holding a remembrance service. Just do what you can either before, on, or even after Holocaust Remembrance Day to ensure that this year you can say that you did 'not stand by'.