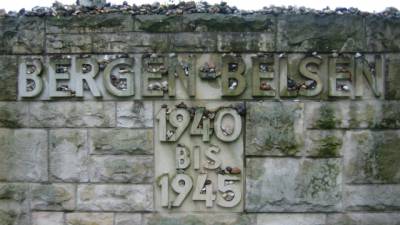 71 years after the liberation of Bergen-Belsen, Rachel Hodgson, the Trust's Information Officer, remembers a very special day she spent with an eyewitness to history.
It's well known in my office that I like to drink tea. Camomile, green, breakfast, peppermint – you name it, I'll drink it. But in June last year, I had perhaps the most interesting cup of tea in my life. Not some fancy new blend or in a swanky new tea bar. Just a cup of breakfast tea at Victoria Station. The thing that made this cup of tea so interesting was my company.
In the summer of last year, Her Majesty the Queen and His Royal Highness the Duke of Edinburgh were visiting Bergen-Belsen. Captain Eric 'Winkle' Brown had been asked to fly to Germany to meet them but, aged 96, his passport hadn't been used in a few years and needed renewing. He needed someone to help him visit the passport office and I jumped at the chance. I was thrilled when he suggested we go for a cup of tea beforehand – a quick Google search suggested he'd have some interesting tales to tell.
Eric flew more planes than anyone in history and was the most-decorated pilot in the history of the Royal Navy. But what really fascinated me were the stories he had to tell about his time at Bergen-Belsen.
Eric only ended up at Bergen-Belsen by chance. He was overheard speaking in German by Brigadier Glyn Hughes who called him over and said he spoke better German than his translator. He was invited to accompany Hughes as he interrogated the camp commandant, Josef Kramer, and the warden of the women's section, Irma Grese. These weren't official interrogations, but Hughes' medical experience meant he wanted to try and get inside their minds. Eric said he had no idea what to expect when arriving at the camp and he wasn't prepared for the horrific sights and smells that met him. He told me that the horrible stench would stay in his nose forever.
During the interrogation, he said that Kramer just kept repeating that he had been following orders. Eric reserved his disdain for Grese. He was shocked by her responses – to every question she was asked, she just replied with the 'Heil Hitler' salute. He remarked that she was the most evil person he had ever met.
My tea had long gone cold but I could have stayed talking to Eric for hours. He was the most incredible man and I was very much saddened to hear of his passing earlier this year.
It is now 71 years since the 11th Armoured Division of the British Army liberated Belsen. Eric said no-one should ever be allowed to forget what happened at there. As the liberators, survivors and eyewitnesses become fewer and frailer, they pass the baton of memory onto us, the next generation, to keep the memory of all those who died at Belsen and who were murdered in the Holocaust alive.
I promised Eric that I would never forget what he had told me for the sake of all those who did not live to share their stories. And that's why today, and every April 15th, as I sit down to my morning cup of tea, I'll take a moment to pause and remember.