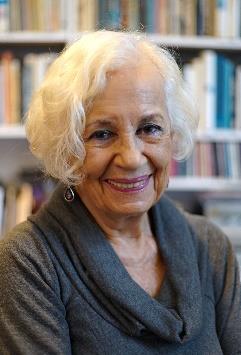 Ruth Posner was born in Warsaw in 1929 and lived with her parents Anna and Marian. Her father was an artist and a chartered accountant, and her mother designed and made underwear. The family moved to Radom, about 100km from Warsaw before the war. Ruth's family saw themselves as Poles first and foremost and she attended a Catholic school. By the end of the Holocaust, Ruth's parents, uncles, aunts and cousins were all killed. Only one aunt remained at the end of the war.
After the Germans invaded, Ruth remembers being thrown out of her home and marched to the Radom Ghetto. Ruth's father arranged for Ruth and her aunt to work in a factory making leather goods. It was hard, slave labour. However, the factory was located outside of town and helped keep Ruth away from the deportations from the ghetto for a time. Once a week the workers were marched to the town baths and on one of these occasions Ruth and her aunt escaped to the non-Jewish side.
Ruth hid with a Catholic family but during the Warsaw Uprising in 1944, she was taken prisoner and sent to Germany. She was imprisoned as a Polish Catholic as opposed to being imprisoned for being Jewish. Towards the end of the war, the Germans put Ruth on a train which ended up in the large town of Essen. The Allies were bombing the town and many around Ruth were killed. She hid on a local farm until the end of the war.
After the war, Ruth came to the UK at the age of 16. She did not speak the language and for a while she lived in a hostel with other refugees in Reading. Despite her experiences during the Holocaust, Ruth was determined to start a new life, learn English and go back to school to make up for lost time. She was helped by the two German Jewish refugees who ran the hostel. They were very strict but helpful and practical.
Ruth eventually went to a good school and later to a college where dance and drama were the primary subjects. After three years at the college she continued her training with the London Contemporary Dance Theatre. She became a member and stayed with them for 18 years, performing and teaching.
Ruth married her husband Michael, who worked for UNICEF, and they moved to New York. Ruth first went to Hunter College (part of New York University) and after 2 years obtained an MA in Theatre Arts. She then changed profession and studied acting, forging a successful career which has lasted until the present.
Ruth felt that it wasn't always easy and sometimes she felt the guilt of survival, feeling that although she was lucky, others had also deserved the same luck and the same right to live.